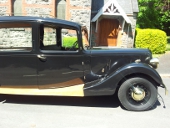 Vintage Hearse Hire
are based in Co. Armagh, Ireland; we have to offer a fully restored 1939 Austin 20 vintage hearse which can be used for any occasion:
Funerals
TV and Production
Funeral premises openings
Trade Exhibitions
This vehicle has been painstakingly restored to its former glory with a few modifications to accommodate today's expectations. The coachworks are by Aurthur Mulliner of Northampton and are in the form of an enclosed funeral coach limousine, well-proportioned and trimmed out with oak and brass. The front interior is black leather embossed with a leaf motif bench seat, and the rear is a beautifully designed division in the form of two sliding glass panels effectively making the driver's compartment somewhat unique. French oak is used on all surfaces including a complete ceiling lining and runner boards.
The vehicle is being regularly serviced and is valeted to the highest standard for each occasion, so it will arrive on the day in pristine condition for the occasion. On the day your company name can be displayed in the side glass of the vehicle. A professional uniformed chauffeur/bearer will also be provided.